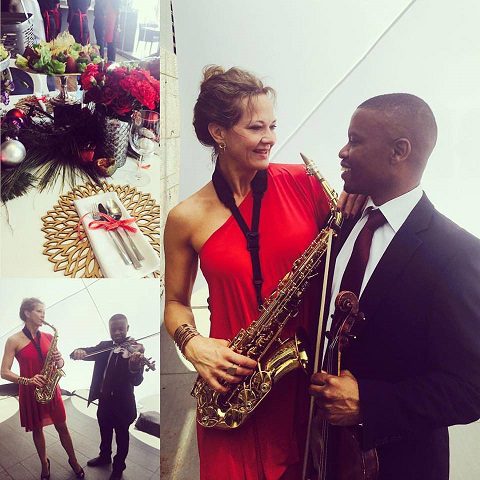 Based: Johannesburg
Mesmerizing and magnetic. Cathy Del Mei has performed for audiences the world over, including in top selling theatre shows and live bands in South Africa, the East, exotic island destinations and London.
 A talented, versatile performer, she is able to adapt her talent to suit every occasion. Her style varies from the evergreen swing era, including the much loved smooth jazz classics, to the popular hits of today, incorporating rock, African and the very latest Buddha Bar and Cade Del Mar sounds.
Kabelo Motlhomi is a constant performer; whether it is in an orchestra, solo artist, session/recording artist or collaboration with other artists. He prides himself in his professionalism, dedication and high standard of performance. He regularly performs with all the major orchestras in Johannesburg like the Johannesburg Philharmonic Orchestra, Johannesburg Festival Orchestra, Johannesburg Music Initiative and occasionally gets invited to play with the KwaZulu-Natal Philharmonic in Durban.
As a freelance musician and recording artist he has worked or collaborated with Bra Hugh Masekela at the Market theatre in 2010 "Songs of Migration" and Sibongile Khumalo celebrating 20 years of enriching the country with her music. To add to long list of artists are Tshepo Mngoma and Gloria Bosman, Bala Brothers, Judith Sephuma and Zahara, Swazi Dlamini, Black coffee, Kent, Khuli Chana, HHP, Kwesta and many others.
As a soloist and concertmaster Kabelo has toured Europe and the United States with Buskaid.  The Biggest highlight in his career was in 2013 when he was asked to play at the premiere of Mandela: Long Walk To Freedom held in Johannesburg.
Kabelo Motlhomi plays on a 1772 Sebastian Kloz Violin and Yamaha SV-250 Electric Violin. His main focus this year will be doing more work as a soloist and establishing himself as a jazz violinist.
Mostly does African themed based and other smooth jazz elements.
[contact-form-7 id="2436" title="Contact form 1"]