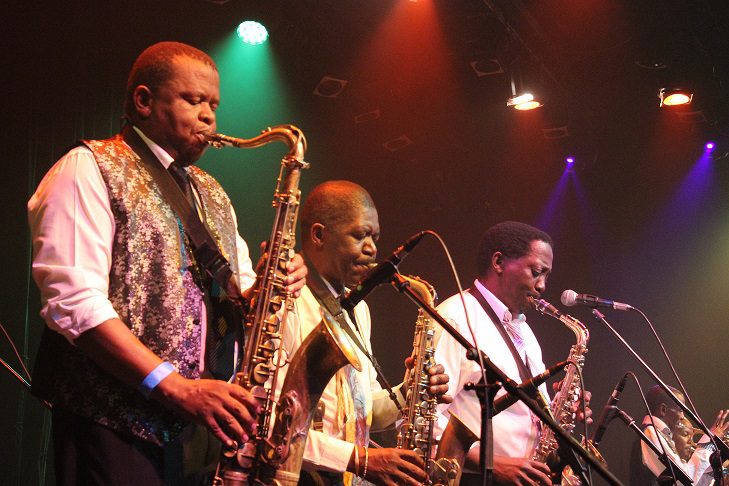 Based: Johannesburg.
In the early 1950's Bra Ntemi and his Alexandra All Star band hit the cutting edge of South Africa's music scene, blending American big band sound with traditional Majuba tempo's and Marabi influences.
They enjoyed enormous success and had a huge following in those days. Sadly, all this came to an end in the late sixties with the demolition of Sophiatown, when big bands went out of fashion.
There are few bands in South Africa that do the big band sound more infectiously and with more accomplishment and just plain love for the genre than the African Jazz Pioneers. With their wonderful happy music that celebrates life, the African Jazz Pioneers will make your head spin with joy.
International fame came soon after their first overseas tour as part of the Casa conference in Amsterdam in 1987. After the easing of the boycott in 1990, the African Jazz Pioneers were among the first to travel all over the world and perform at festivals in France, Japan, Switzerland, England, Spain, Germany, Sweden and Holland. During these years they shared the stage with the likes of Youssou N'Dour, Quincey Jones, Gilberto Gil, Nina Simone and Chick Corea, to name but a few.
Their music has been released in more countries than can be named here.
Since that first performance in Alexandra, African Jazz Pioneers have evolved to a point where their invigorating concerts have become famous at venues throughout the country and neighboring states. The band reaches everyone, from high society to liberation movements and political rallies, including the honour of performing several times for out country's first democratically elected president, Nelson Mandela.
The African Jazz Pioneers are:
Albert Kumalo – bandleader, guitar
Brahms Hlabatau – tenor sax
Sello Mnayaka – alto sax
Mpho Sithole – alto sax
Levy Kgasi – trumpet
Thabang Ramagofu – trumpet
Phillix Tau – bass
Madoda Gxabeka – keyboards
Aron Manana – Drums
Khanya Ceza – vocals.
[contact-form-7 id="2436" title="Contact form 1"]