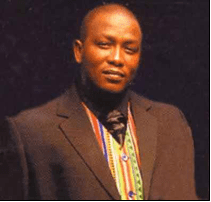 Based: Johannesburg.
Here's a talented young man who has more than paid his dues to achieve the status that he so deserves – indeed, Agos is one of the finest male Opera singers available in South Africa!
Born in the Orange Fee State city of Welkom Agos matriculated at Teto Secondary School, later embarking on a singing career at the Pretoria Technicon School for Opera under the supervision of voice trainer Eric Muller. Such was the young man's talent that he soon landed a number of Operatic roles including the likes of "Dialogue of the Carmelites", "The marriage of Figaro", "Fidelio" and further leading roles including Beppo in "Rita", "Rodolfo" in La Boheme and Alfred in "Die Fledermaus".
In mid 1994 Agos signed to the Pact Opera Chorus where, later he was awarded both the SAA Prize for "Most Promising Young Artist" and the prestigious Opera Foundation Prize. Agos features as one of Gauteng's 'Three tenors', and has performed numerous soirees at the Roodepoort City Opera as well as the Presidential Guest House (with the South African Police Band).
Corporate and Government engagements include The Nedbank Proms, post budget dinner organised by the Merchant Bank for the Mr Trevor Manuel, Minister of Finance, The Mandela Children's Fund and The Alan Paton Awards (at the Park Hyatt).
One of the greatest highlights in the career of Agos Moahi is undoubtedly the standing ovation he received from former President Nelson Mandela at the Community Builder of the Year awards in 1999.
While Agos presents many cabaret styled performances as a solo artist, his show is also available with the inclusion of additional artists including the likes of Cape Town's Bongiwe Mapasa – a young lass with credentials equal to those of Agos!
[contact-form-7 id="2436" title="Contact form 1"]