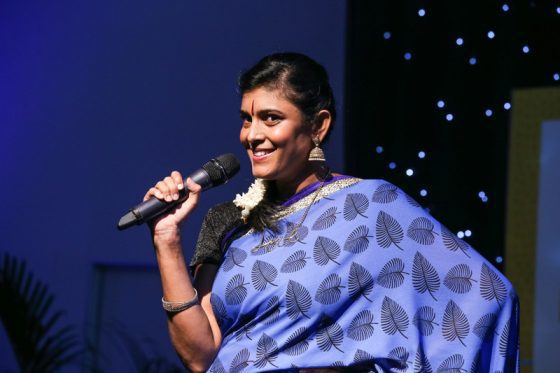 Based: Durban.
Annalakshmi is an Indian National that has taken refuge in South Africa, from her Monster Mother-in-law. She uses singing in a variety of Indian vernacular as well as Old and contemporary English music to tackle family, social, economic and political issues. She loves telling stories and giving her candid commentary or her Indian "take" on things. Her Parodies are witty, funny and hit home.
She offers MC, Entertainment, Comedy, Singing Games and Guest Interaction for Private and Corporate Events and is able to customise the entertainment according to the clients specifications. Also on offer is the " Love Story " that she does at Wedding Receptions. Which entails narrating the story of how the couple met and singing songs that tie up with particular incidences in the story. It's terribly romantic.
Annalakshmi is Charismatic and entertaining, whether it be in between power point presentations or speeches and holds audiences' attention with ease!
[contact-form-7 id="2436" title="Contact form 1"]