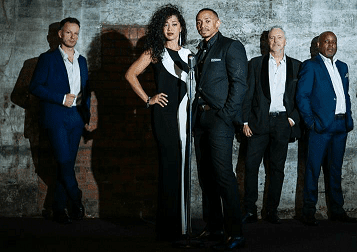 Based: Johannesburg.
Blu BamBoo is a band unequalled in the South African music industry for its professionalism, versatility, presentation and musicianship.
The group incorporates the renowned talents of Chanelle Davids (vocals), Nigel Morkel (Vocals), Brendan Ross (Alto Sax, Vocals & Keyboards), Denny Lalouette (Bass), Marlon Witbooi (Drums) and Sydney Mavundla (Trumpet).
Blu BamBoo features the most extensive repertoire of music available with styles ranging from current Pop/Dance to Smooth Jazz & Latin, Disco, Rock & Roll and R&B as well as South African Jazz and Kwaito. Additionally, the band is frequently booked as a stand-alone backing ensemble for top-flight artists and concert events.
The experience and expertise the band possesses within its ranks guarantee that whatever the requirements for your event or function, this band will meet and exceed your expectations. Blu BamBoo truly boasts some of the very best professionals in the business and represents the cutting edge in great music for every occasion.
[contact-form-7 id="2436" title="Contact form 1"]