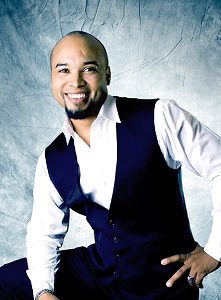 Based: Johannesburg
Since Brandon October first appeared on TV screens 13 years ago, he has remained a fixture on TV, radio and stages all across South Africa. Apart from the usual descriptions of 'phenomenal singer' or 'electric performer' there seems to be two recurring ones: professional and unforgettable.
Determined, persistent, magnetic both on and off the stage, intensely likeable with an incredible vocal ability, Brandon has earned his place as one of South Africa's most in-demand artists. He truly is one of the most talented and versatile artists that South Africa has produced.
It is a special talent to emcee an event, keep it running smoothly, on time and all the while entertain your audience: Brandon October does this with consummate ease. Brandon's confident, spontaneous nature makes him an ideal master of ceremonies. Corporate events require an emcee who is polished, professional, and able to adapt to on-site changes.
Did the dinner start late? Did the speaker finish early? Did the schedule change at the last minute? No problem. With Brandon as your emcee, rest assured your event will be a smooth success from start to finish!
[contact-form-7 id="2436" title="Contact form 1"]