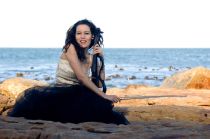 Based: Cape Town.
19 Years Old, Zambian and armed with an electric violin. Caitlin made the brave move to Cape Town from her own little town of Kitwe at the end of 2007 to further her career. Since arriving in South Africa she has performed at major corporate events around the country that have taken her and her violin across the Western Cape, Gauteng , the Eastern Cape and into Limpopo province.
Caitlin has never been classified as your average violinist; she's never even performed seriously on an acoustic violin! Caitlin was inspired by the original electric violinist, Vanessa Mae and a love for music which she inherited from her parents and grandmother. She literally taught herself to play the violin, however, this has given her the freedom to explore all forms of music over the years, not being restricted to learning classical music like most violinists contributes to her energy and movement on stage. Being self-taught has never made her less capable though, she had the honour of performing with the World Youth Symphony Orchestra in the U.S.A after winning a scholarship to study at the prestigious Interlochen Arts Camp during the Summer of 2004.
She lives and loves to perform! Some of Caitlin's most memorable performances have included playing the Zambian national anthem for the late President of Zambia, Levy Mwanawasa, in the middle of an arena; performing on top of a front-end loader for Atlas Copco; James Bond themed events for Southern Sun and Bell Equipment; fashion shows and night club events that have allowed her to have some fun sliding on table tops and strutting down catwalks! In more formal settings Caitlin has entertained His Royal Highness, Prince Richard, Duke of Gloucester, she performed at the South African Opening of Parliament this year (2008), she regularly performs at corporate dinners and cocktail parties and has been invited on several occasions to give repeat performances, by clients that have confidence in her ability to please a crowd; these include Sun International, Pam Golding Properties, Southern Sun and WBHO to name a few.
[contact-form-7 id="2436" title="Contact form 1"]