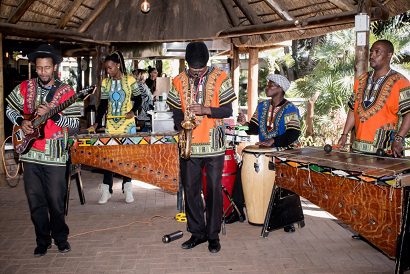 Based: Johannesburg
Coal Train Band (Formerly known as AFRIDA) is a community arts based organization that is committed to truly keeping the African Arts and Culture of South Africa alive. Our Mission is to create a service oriented platform to promote and explore South Africa's vast arts and cultural varieties to help build locally based sustainable arts & culture industry while enhancing the socio-economic status of the country's Artistic communities.
Creating a unique and exciting sound that comes together with energetic dance moves by adding Western Drum & Percussions. The band has since released their only album as AFRIDA (Africa Devoted Artists) CD release with sheer Sound entitled "Buyela Ekhaya". The album went on to winning The Old Mutual Jazz Encounter Competition both Regional & National, also winning The 8th SAMA Awards. AFRIDA originally consisted of nine (9) young musicians & dancers who studied and performed various styles of indigenous/traditional music, with a touch of Afro Jazz, Kwai Jazz, Contemporary & Mbaqanga Rhythms.
Now with a new name "Coal Train Band" & as a five piece band, plans are underway for performances in Africa and the rest of the world.
[contact-form-7 id="2436" title="Contact form 1"]