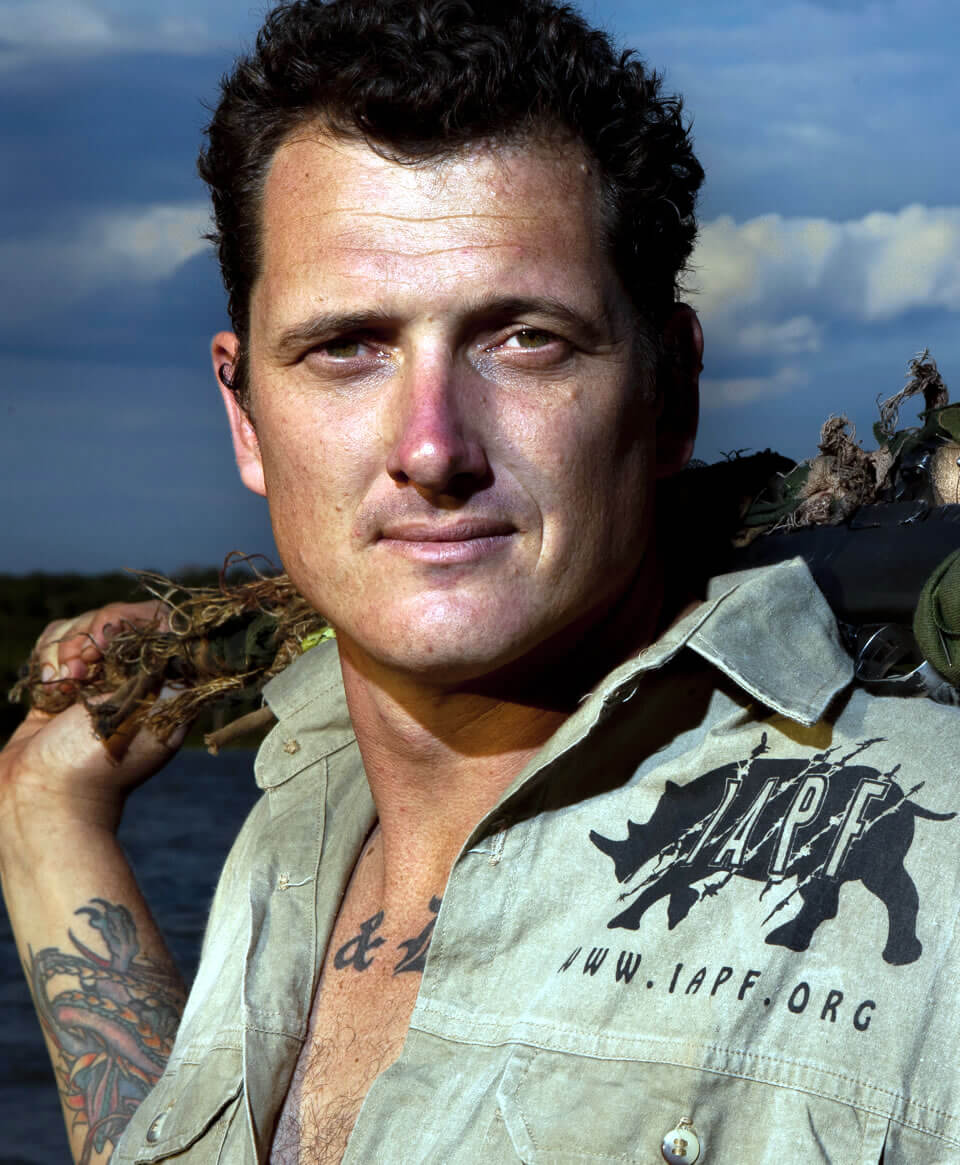 Based: Johannesburg.
Damien has informed, entertained, motivated and inspired select audiences around the world with highlights including; a packed Sydney Opera House for TEDx 2013, Obama's Presidential Advisory Council on Wildlife Trafficking at the Department of Interior in Washington DC, The United Nations Great Apes Survival Summit in Jackson Hole, The Royal Geographical Society in London and sell-out crowds at The Explorers Club in New York City.
Damien has lived an extraordinary life for a 37 year old. At 19, as a garbage collector in Melbourne, he joined the Australian Defense Force as a Clearance Diver and went on to become a Special Operations Sniper. Later becoming a mercenary, he deployed to Iraq where, amongst other roles, he Project Managed the Iraq Special Police Training Academy overseeing paramilitary training and deployment of troops. Following three years service in Iraq, he left the frontlines with no direction in life.
A trip to Africa in early 2009 awakened him to the horrors that the natural world is facing from poaching. Identifying his niche capabilities to dealing with this injustice, Damien liquidated his wartime savings, and founded the International Anti-Poaching Foundation (IAPF). Now a multinational not-for-profit, the IAPF runs operations on the frontlines of the world wildlife wars. Using battle-proven training and management methods IAPF applies a project based paradigm, whereby they operate only in areas which represent high environmental value and where application of unique skills can produce an effective and enduring local solution.
Topics include:
Follow your passion to live your dream:

How giving up everything, and breaking away from societies expectation can set you free to fulfil your true destiny

Conservation, Adventure & Leadership:

From 12 tours of Iraq and travel through more than 60 countries, Damien can recount numerous tales, lessons and methods to overcome many obstacles that life can throw at you
Destroying fear of failure:

Conquering a fear of failure to graduate through some of the world's most arduous military selection phases can only come with the acceptance of mistakes along the way. Some fatal. These are the school fees of life, not failure
Entrepreneurial spirit & raw grit:

If you chose not to follow anyone's dreams but your own, it will require two things above all else: The belief that your concept is different and can effect change and the refusal to give up on making it reach its full potential.
Overcoming adversity in hostile environments:

The ability to operate a multinational organisation across three continents, with multiple cultures, languages and often in a hostile environment is not an online lesson or something university can prepare us
[contact-form-7 id="2436" title="Contact form 1"]