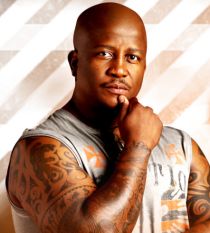 Based: Johannesburg.
'The biggest challenge for South African radio right now is further bridging the gap between while and black music. Traditionally there has been polarisation in music through our society's past. 5FM is crossing that bridge and it is I believe the only national youth station in the country which has the power and opportunity to affect change at grassroots levels.
5FM can do what a lot of politicians wish they could do – getting all sorts of different people to talk to each other." Thato Sikwane, aka DJ Fresh, started out on radio in Botswana in the early nineties and from the minute he was shown the mic he knew that broadcasting was the only career for him.
Fresh subsequently dropped his law studies and pursued radio fulltime, joining YFM in 1997. Fresh was heading up the YFM breakfast team by 2003 and was quickly snapped up by 5FM in 2006 where the Fresh Drive has since become a 5FM institution as well as one of the station's most popular show.
Fresh has shared the DJ booth with a number of international during his career to date, including "Little Louie" Vega, Frankie Knuckles, Armand Van Helden, Chris Lake, Paul Van Dyke, Oskido, Fat Boy Slim, Hoxton Whores, Jazzy Jeff, Harley and Muscle, Ready D, Kenny Gope Gonzales, Viny Da Vinci, Deep, Gregory and Dominic Spreadlove. Cities like Johannesburg, Miami, London, Cape Town, Mascow, Brisbane, Ibiza, Leeds, Durban, Gaborne, Birmingham, Dubai, Montreal and Melbourne have all danced to Fresh's beats.
An entrepreneur at heart, Fresh is gifted at spotting gaps in the market and he has many projects on the go at any one time. A few examples are Fresh's cool T-shirt range and merchandise which started out as a fun side project and is now hugely in demand; his partnership with DJ Euphonik called "F.Eu" as well as his on-going involvement in numerous charities and awareness campaigns.
DJ Fresh is part of "DJU", a team of leading South African deejays, musicians, producers and media personalities. Inspired by international conferences such as The Miami Winter Music Conference, DJU established the South African dance music industry practitioners to keep pace with, and eventually lead global developments.
Despite his enormous success, Fresh remains humble about his achievements and still have many goals to pursue: "I feel I still have a way to go – if I could use the analogy of track with ten gears I'd only be in sixth gear now. I'm still building the foundations of my career – so much can still be done. That's why I accepted a job at 5FM over Metro – I knew it would be a challenge and I wanted to get out of my comfort zone. I like to push myself, the boundaries, and people perceptions of the boundaries. I also hate loose ends which mean I probably will finish my Law degree one day"
Fresh describes the 5FM team as "The most dynamic team I have ever worked with – they are a bunch of highly motivated people and it rubs off. 5FM has extremely high standards and benchmarks which inspire me to be even more inspired, if you understand what I mean."
Nothing is stopping DJ Fresh as his career continues to grow at an exponential rate. Tune into the hottest daily drive show in South Africa on 5FM, as Fresh and his dynamic Fresh Drive team continue to entertain, break down boundaries and bringing South Africans together.
[contact-form-7 id="2436" title="Contact form 1"]