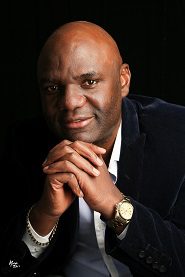 Based: Johannesburg
From an early age Felix was exposed to the performing arts and has been on stage acting and singing. Over the years and due to various theatrical roles that he played his command of English has become exceptional along with an ability to speak five other languages.  Felix was an avid Interact member and Toastmaster at High School, and writing articles for Eisteddfods competitions.
His passion for writing and speaking advanced further during his early employment days to the extent that he started a very popular monthly newsletter at work and eventually became a popular Master of Ceremonies at various glitzy events and also private functions.
He later became a popular radio disc jockey and along with playing very tasteful music on air, he further developed his skills in researching and presenting shows which were relevant and informative to the listeners.
His talent led to him creating his unique and captivating presentation style to the extent that he has hosted shows that featured some very prominent artists from Ringo Mandlingozi to PJ Powers.
Felix is an Accountant by profession and has worked in various industries from the private to public sector at executive management level and is therefore a very experienced leader and knowledgeable with regards to corporate goals and strategies and the role that people play in the whole equation.
His passion for seeing people becoming a success led him to become very obsessed with extensively studying personal and corporate success secrets and also team dynamics and the reasons why teams succeed or dysfunction.
As such he understands what drives employee engagement, team work and other drivers that cause organizations and individuals to succeed or fail and he is the right person to help your organization to become reinvigorated and motivated.
In his various roles, Felix has had the opportunity to make presentations on numerous occasions to different groupings ranging from students to business leaders and has facilitated team building gatherings with a great deal of focus on addressing root causes of team fundamentals.
[contact-form-7 id="2436" title="Contact form 1"]