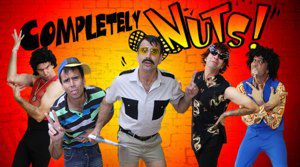 Based: Port Elizabeth

Gino Fabbri is an immensely likeable comedian who interacts with his audience in the guise of hilarious characters, keeping his material clean at all times. As MC, he integrates his irreverent, off-the-cuff wit into any event program, introducing his personas over the course of an evening and lifting the atmosphere by adding fun elements to liven up proceedings.
Gino is adept at holding the focus of difficult audiences using songs, jokes and attention grabbing finales to win them over!
His characters pop up sporadically during day-long trade shows, golf days, prize-givings and fun-runs. His act is geared for English, Afrikaans and non-white audiences and is riddled with amusing one-liners.
Gino also offers a show-stopping interpretation of the Evolution of Dance in which he performs an incredible 50 dance styles in 8 minutes. His Evolution of Drums medley shows off his spectacular drumming skills.
From a 45-90 minute show to the full interactive package, watch Gino play a toaster with a pair of forks, meet his hip-gyrating police officer, the French Chef who cooked the evening's meal, his flamboyant events coordinator, his affectionate Latin Lover, his dodgy Indian wheeler-dealer and a host of other crazies. Each entertain in 10-20 minute comedy segments.
Gino's wide range of material and character options allow him to perform repeatedly for the same client and to always appear fresh and new. He also appears alongside other Centrestage artists to offer additional dance party elements if required.
[contact-form-7 id="2436" title="Contact form 1"]