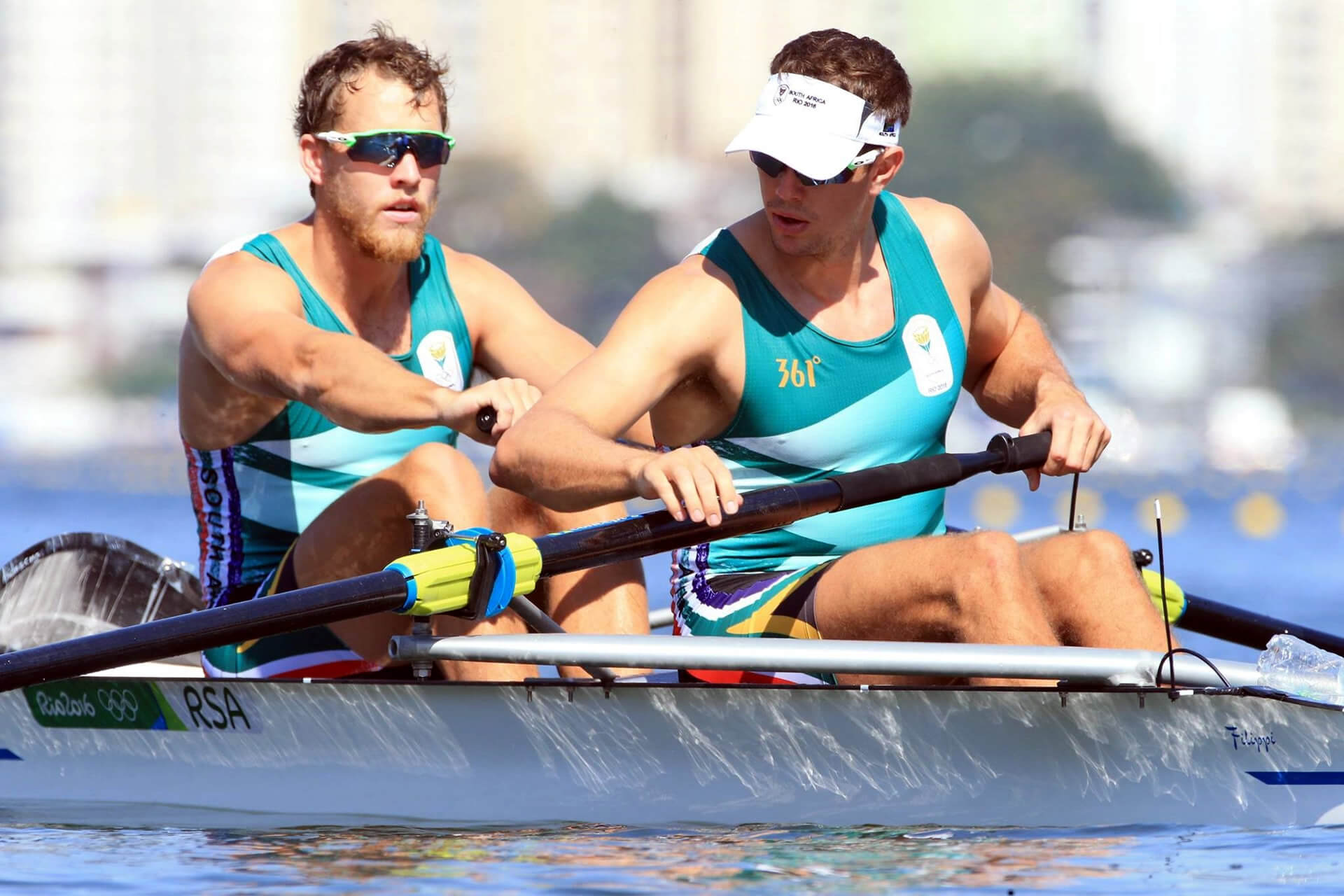 Based: Johannesburg.
2016 Silver medalists in men's Coxless pair. Representing South Africa in Rowing.
Shaun Keeling matriculated from King Edwards VII School in 2005.
Shaun has rowed at all national levels for South Africa from 2004-2016 earning 87 caps for his country. He has been in the top heavyweight men's boat from 2008-2016. During this period he has rowed with six other partners and together have been the backbone of the heavyweight squad building up to the 2016 Rio Olympics.
His rowing career spans 16 years (he started when he was 13 years old). Shaun came 5th at the Beijing Olympics in 2008; and heartbreakingly missed out on the 2012 London Olympics.
Following this, and after much deliberation on whether to carry on rowing – he pushed on and continued, winning silver at the Rio Olympics in the men's coxless pair with Lawrence Brittain.
During his career, he has won three senior world cup medals, one Senior World Champs bronze and an Olympic silver medal.
Lawrence Brittain matriculated from Parktown Boys High School in 2008 with full colours for rowing and has represented South Africa every year since 2008, earning himself 70 caps in the Green and Gold. 2010 Lawrence Brittain became an u23 World Champion Winning South Africa's first ever rowing championship gold medal.
He has been SA Champion 11 times and is the Men's Captain of the Tuks Rowing team.
In October 2014 just two months after representing South Africa at Senior World
Championships with the aim of being at the Rio 2016 Olympics he was diagnosed with stage 4 Hodgkin's Lymphoma Cancer. Less than two years later he stood on the Olympic podium and won silver in the men's coxless pair with Shaun Keeling.
Lawrence comes from a rowing family, he was diagnosed with cancer and beat it, making his way to the 2016 Olympics.
Shaun had 4 operations and suffered from a number of injuries, health setbacks and financial stresses and overcame all these challenges to make it to the Olympics.
Shaun and Lawrence only rowed as a team for a short while before going to the Olympics and their talk incorporates the importance of team work, communication and belief. This inspirational talk leaves guests feeling inspired, while bringing them close to tears.
[contact-form-7 id="2436" title="Contact form 1"]