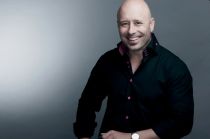 Based: Johannesburg.
From growing up living in a trailer (as in, what gets hit by tornadoes in Kansas!), surviving stage 4 cancer and a heart attack, becoming a household name on radio and television, to marrying the love of his life and the birth of his daughters, Marks journey in life definitely has had its ups and downs! Here is a brief flashback…
Mark was born and grew up in Kent, England in a small village called Allhallows. He spent his pre-teens living in a trailer (in England they call them mobile homes), always dreaming of something bigger than where he was. His dad and brothers still live in the UK. He came to South Africa at the age of 9 and already knew that he wanted to be a radio deejay when he grew up. At the age of 12 he would ride around the streets of Kriel with a battery operated microphone and speaker, announcing lost dogs (which he fabricated!).
The educated side of life before broadcasting
After completing matric at Sasolburg High School in 1986, Mark went on to study at Wits and UNISA. He graduated with a B.COM (Industrial Psychology and Business Economics). Mark went on to become a consumer researcher, a profession which lasted 10 years. Whilst in research he became the Johannesburg Chairman of the SA Marketing Research Association.
Surviving stage 4 testicular, lung and kidney cancer
Mark is a cancer survivor. At the age of 18 he was diagnosed with stage 4 testicular cancer, which spread to his lungs and kidneys. He attributes his positive attitude towards life as being responsible for him still being alive over 20 years later! Mark often shares his experiences with others so that they can be more aware of what cancer is about, as well as the signs to look out for.
He is also a friend of The Reach for a Dream Foundation and a patron of CANSA. Mark is well known as the bald head that leads the annual CANSA Shavathons.
From the moment Mark went into remission he decided that he was going to follow his dream and get onto radio, so whilst he was a consumer researcher by day, by night he was a demo tape maker, sending countless demos to countless radio stations. After having the door closed in his face for eight years, perseverance eventually paid off in 1995 when he managed to get his first radio show hosting weekend graveyard on 5FM. After many years with 5FM, Mark moved onto 94.7 Highveld Stereo and 94.5 KFM. Television was a natural progression, and over the years Mark has hosted a total 10 shows.
On 14th July 2008, Mark suffered a sudden and severe heart attack. He got his first angina pains on the set of his TV show The Power of 10. A few days later he went to his doctor to chat about the chest pains he had been having. While he was in her office talking to her, he had the heart attack.
The ability to receive immediate medical care saved his life. He was rushed by ambulance to hospital where he had emergency surgery. Even though he ate healthily, cholesterol had blocked his coronary artery, which in turn caused 20% damage to his heart. A stent was placed in the artery and today Mark continues to make the most out of life!
Mark has been a professional MC for over 17 years. His warm and friendly delivery style has endeared him to thousands of delegates. Whether your function is a 2 day conference or a gala awards evening, Mark Pilgrim is there to make sure the evening goes according to plan! Mark can also provided a value-added service by both being your MC and deejay for the evening!
Mark has extensive experience hosting events and is the ideal choice for your next corporate function. He is also a corporate DJ and voice artist.
[contact-form-7 id="2436" title="Contact form 1"]