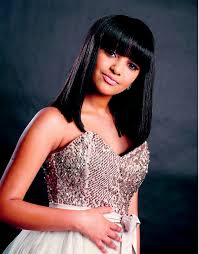 Based: Cape Town

Season 13 – "Your Idols Winner Is…Paxton Fielies"
Paxton, the young 17 year old from Bishops Lavis in Cape Town, captured the hearts and minds of Idols viewers across South Africa.This determined young songstress exceeded fans expectations when she went on to grasp the title, hailing her as South Africa's Youngest Winner of Idols South Africa.
However, don't try box this sassy young businesswoman into your general "She will fade away when the next winner comes along" sentiment. Her fierce passion for her music and craft was shown when she insisted on writing her own album. She has surrounded herself with top musicians in the industry to formulate a tight music team, to assist in getting her music across to the commercial market.
When it comes to performing, she is superbly versatile, bouncing from a smooth and spine chilling ballad to a dancy pop number, such as her hit single "Demonstrate". In the past few months since her win, she has performed up to 4 events per night, without complaint.
When working with Paxton, her wisdom exceeds her age, impressing and leaving a positive mark on every stage she graces.
So, South Africa … Watch this space… This rising star is about to take over, and we look forward to you being a part
of her exciting journey.
[contact-form-7 id="2436" title="Contact form 1"]