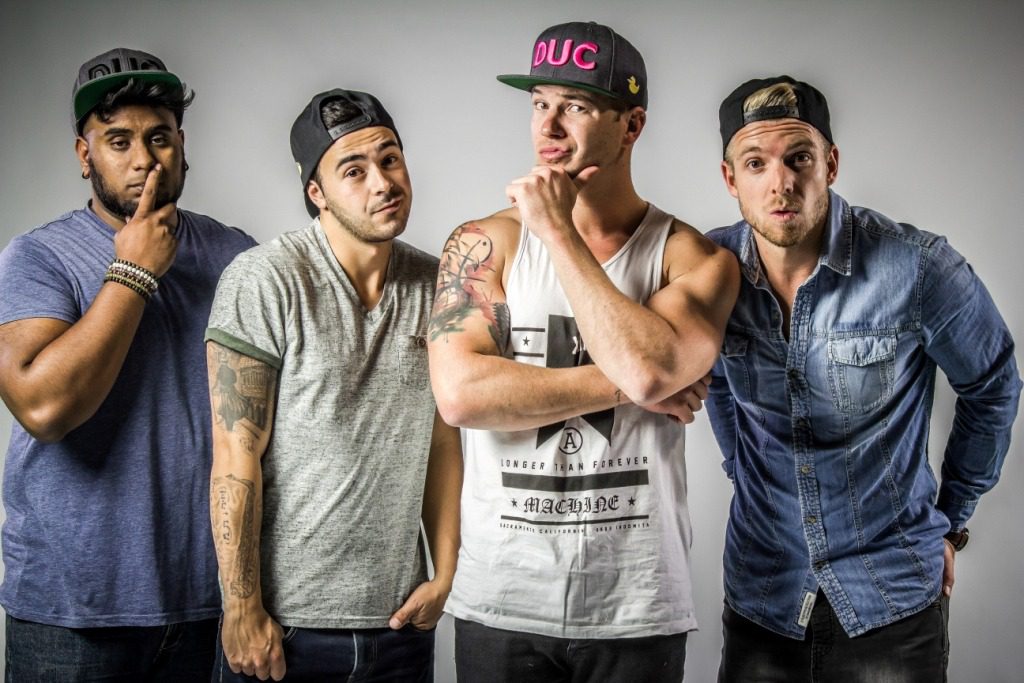 Based: Johannesburg.
WHAT THE DUC?
Rubber Duc is an independent, fresh, four-piece band, made up of Nick Jordaan (Lead vocals, acoustic guitar, hi-hat), Brendan Campbell (Lead guitar, kick drum, backing vocals), Sheldon Sham (Saxophone, crash, tambourine, backing vocals) and Amiel Gopal (Bass, snare drum, backing vocals).
Their unique "folk-swing-hop" sound immediately gathered them a flock of followers and media attention – they've been called "Joburg's hottest new band" and "the next big thing" – all of this in the first year of existence… Rubber Duc's melodies are catchy and the lyrics are nostalgic, evocative and clever. Whether performing original material, "ducking up" covers, or poking fun at the world around us, their live performances guarantee a good time for all!
It all started in late 2013, Nick Jordaan and Brendan Campbell were asked to help out a friend and put together a quick acoustic set. At this virtually impromptu debut show, they were booked for their first "official" gig: The ON THE HILL – MOROCK 2013 Festival. Needing to spread the word, they quickly recorded a cover of The 1975's "Chocolate", shot a video, recruited Sheldon Sham on sax and Rubber Duc took flight!
Their first single was released in March of 2014. "Ain't Nobody Got Time for That" is a satirical musical look at living in South Africa today. The song is inspired by the YouTube clip of Sweet Brown that went viral worldwide. In true Rubber Duc style, it is a humorous take on current issues… All the stuff we simply don't have time for! It made the top 2 on the 5FM and East Coast Radio charts.
In April 2015, the Ducs welcomed a 4th member to the flock: Amiel Gopal not only plays bass, but joins the percussion line on the snare drum. Amiel's talent adds another layer of spice to the unique Rubber Duc sound and brings even more energy to their infectious live performances! To celebrate the addition of Amiel, Rubber Duc recorded another of their trademark covers with Taylor Swift's "Style". Who doesn't love a spot of Tay Tay?
They might be just under three years old, but The Ducs have already gathered a large and very varied flock of fans! They have played at many South African live music venues from Pretoria to Durban to the Cape and back again to their Jozi home base.
[contact-form-7 id="2436" title="Contact form 1"]