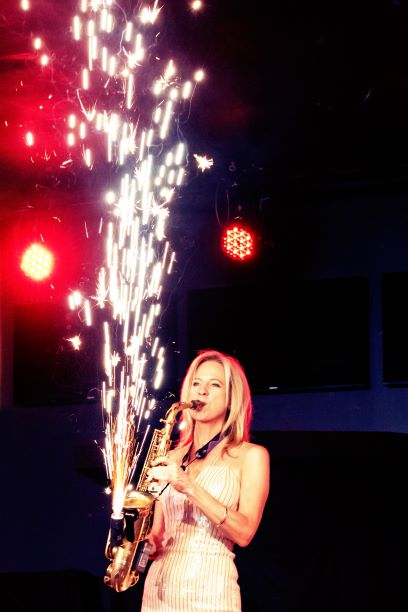 Based: Johannesburg
Ingenuity meets elegance in this beautifully designed showpiece. Utilizing pyrotechnics as part of her sax performance, Rike has mastered the art of surprising guests on stage with 2 x 30 second bursts of sparkly splendor. Fantastic for stage shows at Gala Dinners, product launches, reveals and cocktails.
This spectacular performance is brought to life by Rike on Sax.
Rike started her music education at age six, playing the piano and later the oboe and performed in various youth orchestras during her school years. At the age of nineteen she was introduced to the alto saxophone and decided to make it her main instrument. She played first at the Centurion Lake Hotel as resident musician and did some freelance work with various pop bands; Avalanche, Scandal, Worx, Big Bands; Bonzai Big Band, SAAF Big Band, and saxophone quartets.
Her repertoire ranges from classical to pop and jazz Rike performs a variety of styles of music to create atmosphere and ambience to suit the event. She often roves around guests whilst performing light background music.
[contact-form-7 id="2436" title="Contact form 1"]