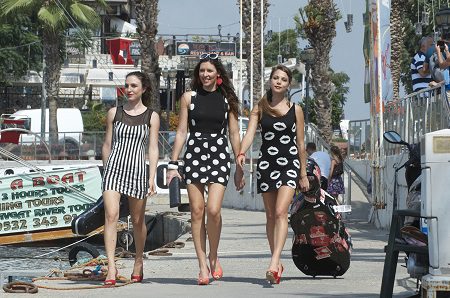 Based: Cape Town

Known for changing the face of instrumental music in South Africa and beyond with their extraordinary fusion of virtuosity and fresh beats, Sterling EQ boasts four successful releases, three major music awards, over 700 live performances across 11 countries since 2007, and tens of thousands of followers worldwide. They have performed in 12 countries and for live audiences of up to 40,000, and on live broadcasts to millions of global television viewers.
The multiple award-winning instrumental pop group is made up of celebrated flautist Carina Bruwer who is also well-known for her record-breaking marathon swimming feats, ace violinist Luca Hart and the enchanting Ariella Caira on cello – three Classically trained virtuosos with dozens of awards, degrees and distinctions between them, who share a passion for the latest beats and pop sounds.
Career highlights include winning an SA Music Award in 2011, a 2013 Ghoema Music Award and a 2013 Huisgenoot Tempo Award, signing a major record deal with EMI South Africa in 2011, performing at top events like the SAMA Awards Show, the FIFA Congress Opening Ceremony and Official World Cup Banquet (2010), the World Travel Awards in India, Dubai, Durban and Johannesburg, SA Idols 2011 (guest artist), the IPL 2009 Opening Matches and the Cape Town Stadium launch and numerous private and corporate parties, events and showcases.
Other memorable career moments include collaborating with the likes of Boney M, Dave van Vuuren and Loyiso Bala; sharing stages with artists such as Snow Patrol, Carole Samaha and Lira, and performing in front of celebrities like Elton John, Liz Hurley, Annie Lennox, Lance Armstrong and Dr Robert Rey, amongst others.
[contact-form-7 id="2436" title="Contact form 1"]