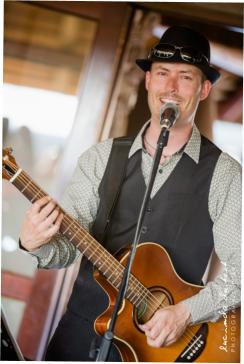 Based: Johannesburg
Apart from one or two breaks along the way, Warren Field has performed live music full-time since 2001. It has been his pleasure and privilege to entertain the young and the young-at-heart at occasions of every description in and around South Africa since then.
Since 2012 Warren has included a dee-jay service to offer his clients a one-stop solution that includes easy-listening live music for the first half of proceedings, followed by the latest and greatest dance hits, for a fully satisfying entertainment experience.
In 2016, Warren added yet another entertainment service: a fun-focused, pub-style trivia quiz, incorporating music, photos, video clips and questions tailored to the client's event and guest profile, in collaboration with the client.
His live performance sound and style can be described as "Jack Johnson-meets-Michael Bublé"; in other words, classy, laid-back, jazz-tinted acoustic renditions of the familiar favourites and classics from the 50s to the present day.
Warren understands that his performances are a reflection of his clients' high standards and values, and he presents and conducts himself accordingly: always punctual, always friendly yet courteous, and accommodating of his clients' needs in every way possible.
Over the past 9 years in Gauteng, Warren has performed to public, private and corporate audiences at some of the region's most beautiful and exclusive venues. His personal performance highlight yet remains New Year's Eve 2008, when he was flown by corporate jet to Tswalu Private Game Reserve, Northern Cape, to perform under the stars to an exclusive audience including Academy Award winner, Julianne Moore.
Warren's genuine love of music and entertaining is evident in every performance, and he gives his absolute best to meet and exceed his clients' expectations.
[contact-form-7 id="2436" title="Contact form 1"]