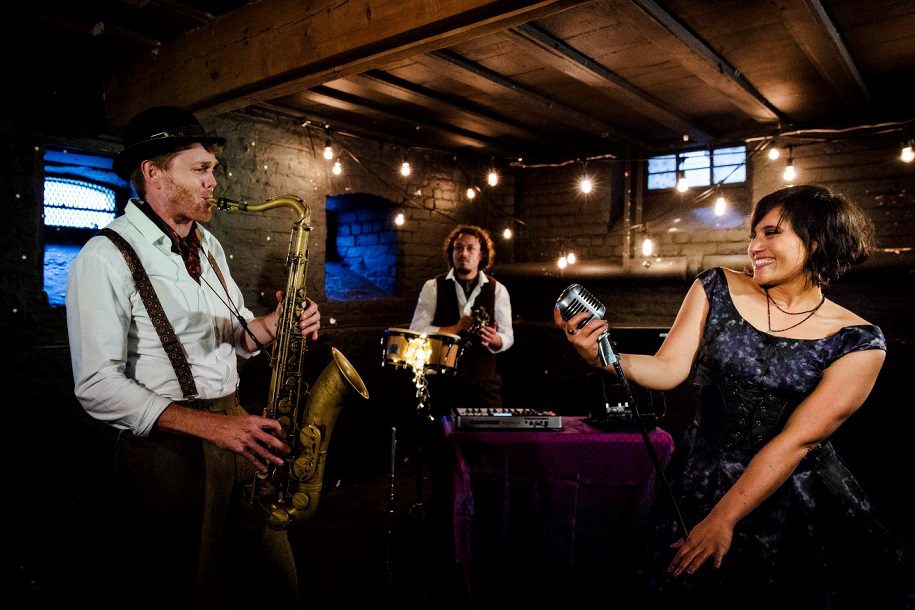 Based: Cape Town

Duo Option: Vocal and Sax
*accompanied by partial backing tracks
Trio Option: Vocals, Sax & DJ / Percussionist
*accompanied by partial backing tracks manned by DJ
This delightful funky trio bring you a vintage musical experience with the smooth and sassy sounds of a bygone but not forgotten era. They cover swing & jazz standards of the greats, modern songs with a swing twist and sometimes throw in a dash of soul, funk, blues or pop oldies. They can even end off with the foot stomping sounds of the DJ's collection of electro-swing at your request. Their set can be tailored to suit your event.
Ghia Koch-Human with her rich, warm and expressive voice has been wowing audiences around South Africa. She covers a mix of genres: jazz, blues, swing, R&B, electronic triphop to name a few. She launched into doing a multitude of live performances varying from resident vocalist at club gigs to doing a short stint as part of the Electro-swing outfit which performed at the KKNK Arts festival 2014. Ghia also wowed audiences as the opening comedy cabaret act for Conrad Koch's 'Missing' show at the Joburg Theatre in 2015. Then, more recently teamed up with Charles Tertiens in the sold out Comedy Cabaret show C'est Bizarre'.
Django Flaherty is a music producer, DJ and audio engineer from Cape Town. As a DJ, he's best known for electro-swing, tech house and all kinds of funk, though his repertoire spans everything from rock-n-roll classics to the top 40. He lives and breathes audio, recording and mixing music and short films by day, and playing a wide array of parties and functions by night. In 2015, he was the resident DJ at Catacombs. Prior to 2014, he held a three-year residence at Polana in Kalk Bay, and co-owned a mobile DJ business called Bandwagon Music. He is also part of electronic outfit "Pravda".
Simon Bates (Saxophonist) with a BMus from University of Natal Durban and MMus from University of Cape Town has played in a multitude of bands ranging in styles like crazy circus music, reggae, punk rock, salsa, swing and more for more than 20 years. At the moment he also jams sax for "The Rudimentals" (reggae/electro/dancehall) as well as "Rumswinger".